Alumawood Aluminum Newport Patio Covers in Simi Valley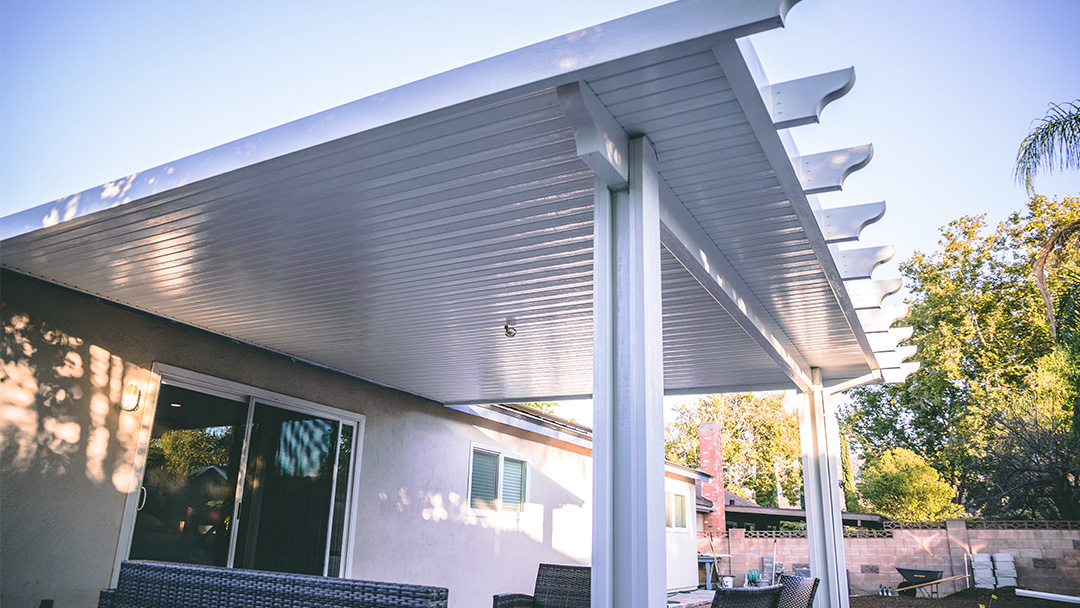 While we might often revel in the sunlight here in Southern California, the sun is also a harsh master. That's never truer than when the high heat of summer rolls around. It's enough to make you hide indoors for months on end. Given the natural beauty of the area and the need to let kids burn off some energy, that's not ideal. What you need is some shade at a reasonable price. The Alumawood aluminum Newport patio cover is a great way to get it.
---
[embedyt] https://www.youtube.com/watch?v=e1Xh6w9BI9M[/embedyt]
---
Alumawood is more affordable
So what makes it a great solution? For starters, it costs a lot less than the alternatives. It generally rolls in at around 40% cheaper than a wooden patio cover. What about vinyl? Still cheaper. An
Alumawood aluminum
Newport patio covers in Simi Valley runs anywhere from 30% to 40% less than vinyl. Price isn't everything, but it's hard to argue with savings like that.
---
It's also a customizable solution for your shade needs. An
Alumawood
patio cover can be adapted to work with nearly any home design. Whether you want a basic rectangular patio cover in your backyard or an L-shaped wraparound, it's not a problem.
---
Even better, installation is almost always faster than the alternatives. Wooden patio covers need a great deal of custom cutting on-site before and during installation. Alumawood uses a system to minimize installation time. When you choose an Alumawood aluminum Newport patio cover Simi Valley, you're choosing less disruption to your life.
Alumawood Aluminum over wood?
There are also a lot of benefits to choosing aluminum over wood. While beautiful, wood is very maintenance-intensive. You'll minimally need to stain and seal every year or two to protect it from the weather, and that's not a guarantee. Even with rigorous maintenance, it can still
dry rot
, get scratched or checked, and fall prey to termites. Once the termites get into the wood, it usually takes a professional to kill them, which can prove expensive.
Alumawood patio covers arrive painted and you don't have to repaint them. The paint holds its color well, even under the brutal California sun. It's highly scratch-resistant and won't rot. You'll never need to call an exterminator for your patio cover because termites won't even look at it.
You can even get some very useful accessories for your patio cover. Ever wish there was a better patio lighting option? You can get light strips installed as part of the package. Annoyed by the lack of moving air in your backyard? Fans are an option. You can even opt to snag gutters for your new patio cover.
Alumawood Newport patio covers
An Alumawood aluminum Newport patio cover is a great solution for your shade needs. The Newport costs are substantially less than the other choices. It can be easily customized to work with your home design and it protects you from nearly all the pitfalls of a wooden patio cover. Plus, you get accessories like lights and fans that were designed to work with your new patio cover. If you've been on the fence about a patio cover, it's time to look at Alumawood.
---
FAQs
---
Alumawoods Newport patio covers and color options
While other aluminum patio cover manufacturers carry only a few color options, Alumawood carries up to 7 different color choices. As for the Newport patio covers, you can choose to have the entire patio cover one solid color.
---
Or, you can mix n match colors throughout the cover system. For example, the posts and beam can be one color while the panels are another. This makes for a very custom and unique look.

Alumawood Colors
Insulated Roof Panel Colors
---
Alumawood patio cover literature
---
All Los Angeles patio cover contractors are not created equal
It's no secret that contractors have a history of being tardy, messy, rude, unethical, slow to measure up to their promises and I'm sure I left out a few…
Likewise, I bet even you have a story or at least know of someone here in Los Angeles who's dealt with a contractor that was difficult to work with. Well, truth be told, we're not huge fans of contractors ourselves and even as General contractors, we have to deal with some of the same issues that you do.
Well, good news people. We're nothing like other contractors. Sure…, that easy to say, right? I bet there are a lot of contractors who make this claim, but truly, we are. I think the reason we feel as if we're a rung higher than most, has mostly to do with empathy.
How so? Well, for starters, we just like you are consumers. Much to many people's dismay, we actually hire contractors to work on our own home. And, when doing so we have to deal with the same issues as many people do. We too, call at least three companies.
What we focus on, however, is the people themselves. Do they answer the phone every time? Are your questions answered completely and thoroughly? Who are the owners and who are the workers and are the guys clean and friendly? Do they actually care about us, and our home and not just our money?
When I referenced empathy as being our number one attribute, it derives from having the same headaches you might looking for a good company. What we did, was take these experiences and apply them to our own business. Treat the client exactly as we'd like to be treated if we were you. It seems to be working out pretty well so far…

About Patiocovered
---