Post in summary
When we think in terms of cost, we have to take into consideration longevity. In summary, Aluminum will last longer than wood and its less expensive. A typical Alumawood patio cover will cost $2,200 to $5,020 while wood on the other hand, will cost you between $5,507 to $13,500.
How much does it cost for the Alumawood patio cover
The
Alumawood
patio cover
is an extremely affordable way to get shade. That is, especially when compared to wood patio covers. Gone are the days of painting … repainting and replacing rotted and damaged wood.
In other words, you will never need to replace aluminum because its deteriorated by the natural decomposition process or gets eaten by insects.

---
Granted wood is still a beautiful product but when compared to aluminum however, there are very few
visual
differences between them. By and large, the Alumawoods deeply embossed wood grain pattern gives their material that real genuine wood appearance. Essentially, there are three popular patio
Alumawood patio covers
. With this in mind, let's look at some of the covers offered below.
​We have the Alumawood "Laguna" – Lattice shade bar patio cover
There is the Alumawood "Newport" – Non-insulated roofed patio cover
And finally the Alumawood "Insulated" -Insulated roofed patio cover
---
The fact that the Alumawood has gained such popularity is largely due to its "lack" of necessary Maintenence as previously mentioned. Let's face it… here in the blistering heat of Simi Valley and other surrounding areas such as Los Angeles for example, it's nice to get out from the heat for a fraction of the cost of wood.
Alumawood patio cover cost
---
For the most part,
Alumawood Laguna Lattice shade bar patio cover is
a simply elegant and affordable way to achieve shade. When compared to wood patio covers of the same dimension the wood is simply more expensive. Yet, both will provide the exact same shade as the other one. Therefore, for functionality, Alumawood seems to be the first choice.
With the Alumawood product, there are options that can move the cost meter forward or back. We're here to give you the cost of a basic 10-foot projection, 10-foot width and 8 feet in height (10 x 10 x 8) lattice cover. Although there are many ways to attach these covers to your home, these prices are based on a typical wall attachment by a professional. To be sure you're getting an Alumawood professional, you can check the Amerimax website for genuine Alumawood installers and dealers such as us.
The price for this Alumawood Lattice patio cover as a kit is $1,223
The Average Los Angeles cost for this Alumawood lattice patio cover installed is $2,200
---
The cost of an Alumawood Newport Non-insulated roofed patio cover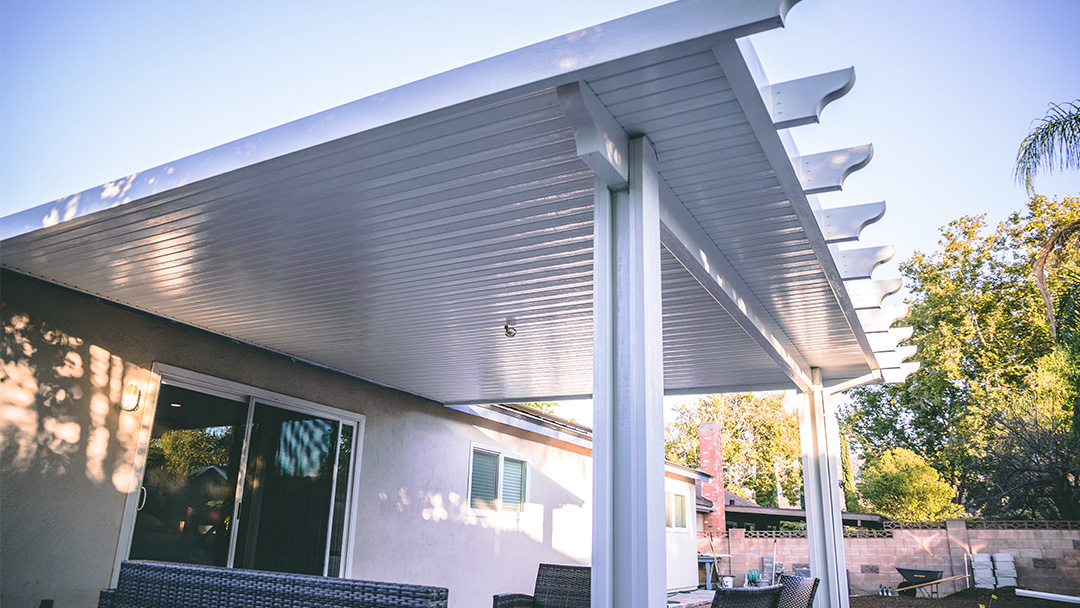 Important to realize that the Alumawood Newport patio cover is a non-insulated roofed patio cover. One of the main features of this cover is it's super six flat pans which are the roofing material for this cover. Additionally, the roofing pan is a 6″ aluminum "w" shaped interlocking panel.
Although the panel isn't designed with thermal resistive qualities in mind, it is, however, an extremely affordable cover if you're in the market for functionality. Speaking of affordability, this cover is the most reasonably priced cover Alumawood produces. Over at patiocovered.com we have a handy calculator to see what a cover like this may cost installed.
Average price for this Alumawood Newport patio cover as a kit is $1,279
The cost for this Alumawood Newport patio cover installed is $3,609
---
---
Introducing the 4K Aluminum Patio Cover Product Line!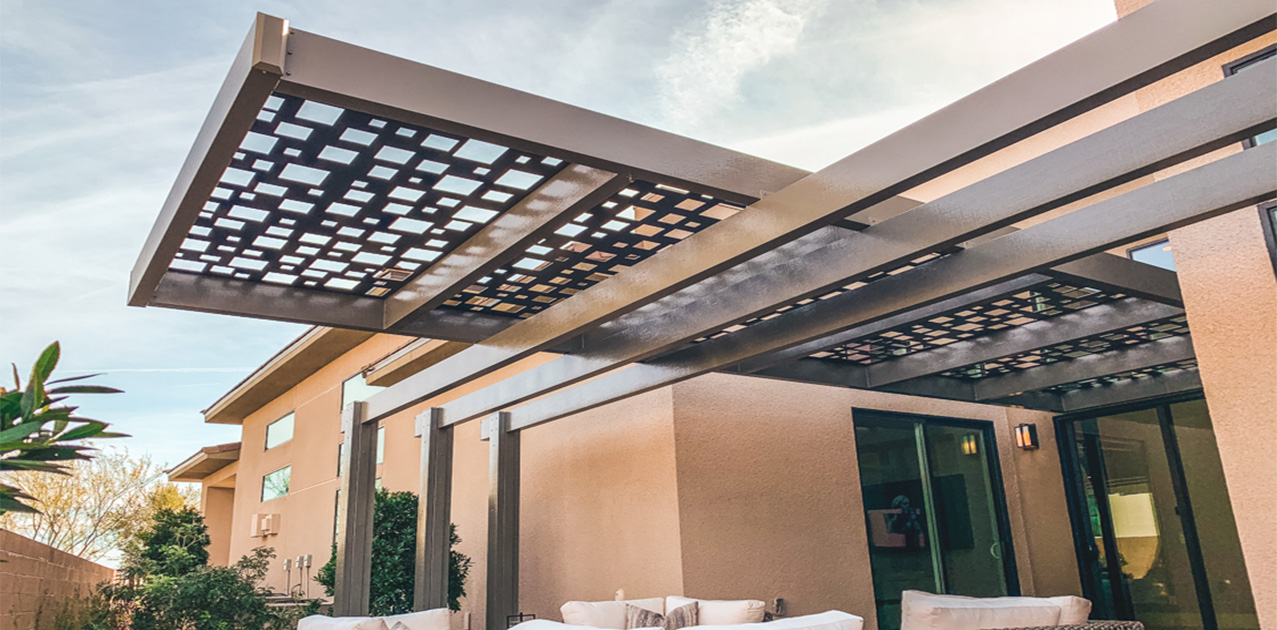 Introducing the newest in Aluminum patio covers here in Los Angeles. The 4K Aluminum patio cover collection is exclusive only to patiocovered.com. Call for more details 661-212-1446
---
---
The cost of an Alumawood Insulated patio cover
The Alumawood insulated patio cover is the Flagship of the Alumawood patio cover products. The Alumawood insulated cover boasts a 3″ thick high-density foam center core sandwiched and sandwiched between two aluminum panels.
Moreover, the foam offers exceptional resistance to heat which in turn keeps the ambient temperature cooler under the cover. As a matter of fact, the thermal R rating of this cover hoovers around R13 which is no joke. What does R 13 mean to you? It translates into cooler temperatures sitting under your patio cover.

Let face it, the areas where we live, for example, Los Angeles, Santa Clarita, Simi Valley, Thousand Oaks and the like all have one thing in common, heat. Summertime here in Southern California is extremely nice with the exception of a few summer months. Which is the reason you should consider this Alumawood Insulated patio cover we sell right here in Los Angeles.
The price for this Alumawood insulated patio cover as a kit is $2,318
The cost for this Alumawood insulated patio cover installed is $4,608
---
What are some options for your Alumawood Patio Cover

---
Granted, and although affordable, the
Alumawood patio cover
cost
is largely dictated by its size or dimensions. That said, however, the Alumawood product does accommodate add-ons to their patio covers. The first thing to remember is that some of these add-ons are style specific. For instance, here are a few of the additions you can purchase with your
Alumawood patio cover
.
Lights (Insulated / Newport)
Ceiling Fan Beams (a channel designed to accommodate the installation of a ceiling fan) (Insulated / Newport)
Heavier Gauge Aluminum
Steel Post Inserts
Steel I-Beam Inserts For Header beam (to accommodate longer spans)
Benefits Of The Alumawood Patio Cover
Not only are alumawood patio covers beautiful, but they also come with a whole list of benefits. The least of which is the material's ability to fight off deterioration you may expect to find in wood patio covers, especially here in Los Angeles. Not only is the Alumawood product beautiful, but it's also affordable. Much more affordable than wood, that's for sure.
Does not rot, deteriorate, rust, chip, peel
damaged by insects
Almost ZERO maintenance
Looks like real wood
7 Beautiful color choices
4 End cut styles available
Affordable
Disadvantages Of The Alumawood Patio Covers
---
Okay, although the Alumawood product has many positive features associated, there are some drawbacks. Here, we've attempted to list a few of the most common disadvantages we've come across as local Southern California patio cover contractors.
Some

HOA's

will not allow Alumawood in community
Some say it looks like a "kit"
Easily damaged compared to wood
Available in only 7

colors​​​​

Noisy when it rains
Limited design configurations
---
Alumawood or Real Wood Patio

When it comes to purchasing a patio cover you'll need to ask yourself… Maintenance or no maintenance? With Alumawood patio cover products you get zero maintenance. Wood, on the other hand, is a material that requires attention almost annually. Sure you can "set it and forget it". But really, why spend umpteen thousands of dollars on a new wooden patio cover just to watch it rot before your very eyes?
In contrast, aluminum patio cover products stand the test of time. In fact, they will probably outlast most of us and with no maintenance. Not to mention the price. When we compare the two materials side by side the aluminum product is much less expensive. And if we're talking value… aluminum once again has wood beat by a mile.
Alumawood, Wood Patio Cover Parts, Repairs, and Service

Alumawood Parts
With Aluminum, one might expect to have issues with getting parts. For the most part, the calls we receive for these Alumawood parts especially in the Los Angeles area are for missing end caps or plugs. Furthermore, along the lines of issues, we do on occasion replace damaged or otherwise dented materials.
All Alumawood parts for repairs are readily available from patiocovered.com. In order to process your requests for Alumawood replacement parts, you may wish to contact us directly or fill out our parts form. we can come out and take a look at your needs or we can simply take the information over the phone.
Repairs and Service for Alumawood Patio Covers
We do patio cover repairs. As a matter of fact, we are patio cover specialists and as such, perform more patio cover repairs than most pest control companies. In other words, if you have a patio cover be it wood or Aluminum, we can repair it. Patio cover repairs in Los Angeles and Simi Valley make up a large part of our business so we really know what we're doing.
What types of patio covers do you guys repair? the patio cover repairs we tend to perform are wood and Aluminum. We don't work on vinyl or composite, however, we do have access to those parts if necessary. Some of the patio cover repairs most common here in Los Angeles are;
Los Angeles Wood patio cover repairs
Wood patio cover post replacement
Beam or wood header repair or replacement
Supporting rusted or deteriorated hardware for wood patio covers
Rafter replacement
Ledger replacement
Shade or lattice bar replacement
---
Los Angeles Alumawood repairs and service
Dented post covers
Missing plugs and end caps
Damaged lattice bars (because an air conditioner fell on them)
Previous installations where the contractor didn't use the prescribed "steel beam insert" as engineered
---
Who is Alumawood?
Amerimax is a division of Euramax Intl, Inc​. Amerimax is an international leader in Steel, Aluminum, Vinyl, Copper, and fiberglass products Value added.
In fact, the Amerimax product line includes Specially coated coils, roof systems, and wall metals, rain gutter systems of vinyl and aluminum, roofing accessories, doors constructed of vinyl and aluminum. additionally, they produce Vehicle doors and windows for recreational vehicles. Furthermore, Bath and shower enclosure systems are also manufactured.